About Rivendale
There are 51 two bedroomed flats at Rivendale, for people who need some care and support to allow them to continue to live independently. Within the scheme there is a hairdressing salon, a therapy room, a hobby room, assisted bathroom, secure garden, guest room and a restaurant. The scheme forms part of the local community and members of the public can access the restaurant, hairdressing salon, hobby room and therapy room during the day. There are areas that are for residents only and these areas are protected by electronic keypads so only residents and members of staff are able to enter.
Extra Care
Extra Care housing supports older people to live independently in their own home.
Our Extra Care developments provide purpose built apartments in a community setting, with access to on-site care and support services that can be tailored to your needs.
Life in Extra Care
Our Extra Care developments are made up of one and two bedroom apartments or bungalows, or a mix of both.
You'll enjoy the privacy of your own self-contained property, and have full access to communal facilities. If you need care and support, we'll work with you to ensure that the service you receive is individually tailored to meet your needs.
Our homes
The film below tells you what to expect from our homes at Rivendale, and how we can support you to live independently in your own home.
Broadacres Extra Care properties
Our Extra Care properties offer a range of benefits, including:
independent living in your own home
discreet security for your peace of mind
a community setting with opportunities for an active and social lifestyle
on-site staff providing care and support services to suit your individual needs
convenient on-site facilities such as hairdressers and a restaurant
Quote from customer: "Our apartment is great, the staff are brilliant and the residents are so friendly. It's a wonderfully caring community here. What more could we ask for?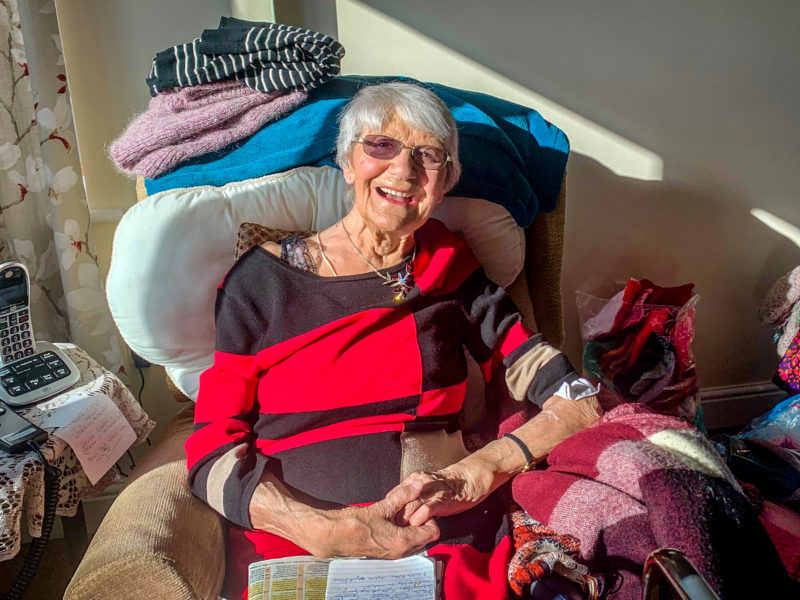 Elsie recently moved to Rivendale because mobility problems had left her struggling to cope in her three-bedroom family home, even with great support from daughter Jane.
Jane had become Elsie's full-time carer, but it was clear that the present situation was doing neither of them any good.
Once Elsie saw Rivendale she knew this was the place to her and says even though she will soon be 90, it has given her a new lease of life.
Elsie says: "I still have very happy memories of my old home as that's where I lived with my husband and children, but I didn't want to be a burden to anyone, especially Jane, so I knew it was time to move on.
"It felt like home immediately. It is lovely and warm, and I can't believe how big the rooms are; it's lovely."
Jane says she has noticed a big change in her mum since moving to Rivendale.
She says: "Mum has settled really well and we couldn't be happier."
Independent living with peace of mind
When you buy or rent an Extra Care property from Broadacres, you'll have the enjoyment of your own home, with the peace of mind that any current or future care requirements will be individually assessed so that you can remain independent for as long as possible. Our care staff will provide as little or as much help as you need to manage your daily routine.
You'll be in control of your finances, and be able to choose your level of involvement with neighbours and the local community.
Each Extra Care scheme has a range of communal facilities, including:
lounge
restaurant
laundry room
communal gardens
Other facilities will vary depending on the scheme.
We understand that pets are part of the family, so the majority of our Extra Care schemes are pet friendly.  For those who can no longer manage to look after a pet at home most have P.A.T. Dog or cat visitors.
Buying an Extra Care apartment
In some schemes you can buy an apartment even if you don't currently need care. Many of our Extra Care residents buy their home so that any future care needs can easily be met without any upheaval.
If you buy one of our properties under shared ownership, you can purchase from 25% to 75% of the full market value. You may pay a rental charge for the unpurchased share, and will also pay a service charge that goes towards upkeep of the building and grounds.
Renting an Extra Care apartment
There are many ways to rent, you can apply direct yourselves or be supported to do so by either support staff or Health and Adult Services or even your GP or local authority.
When you rent a Broadacres Extra Care property, you'll pay rent and a service charge for the upkeep of the building and grounds. You'll also be responsible for paying individual utility bills, contents insurance, phone bills and meal bills.
All Broadacres rents are set within housing benefit levels.  There is an element of the service charge that is not eligible for Housing Benefit but this covers the cost of your daily meal and the heating (and in some schemes the Water Rates)
Support that suits your needs
When you apply to rent or buy a Broadacres Extra Care property, all charges and responsibilities will be discussed with you in full during the application process. Any care charges will be set in accordance with the relevant local authority policy.
You may be eligible for financial support, and our dedicated Money Advice Team can guide you through the benefits system to ensure that you receive the support that you are entitled to.
Quote from customer: "When Carol moved in she couldn't do things for herself, so she was given a care package. Now the difference is monumental. She always has a smile on her face and we're safe in the knowledge that she's happy here."
A care package that's personal
We work in partnership with North Yorkshire County Council to provide a care package that is suitable for your individual needs and that planned package of care will in most cases be provided by external care providers but there will always be the security of having the on-site team who can respond to emergencies day or night.
Services include help with:
shopping
laundry
personal care
We'll work with you to develop a personalised care plan that delivers the services you need to lead the life you want.
Cleaning and domiciliary support
We have cleaners who keep the communal areas clean and tidy and for a reasonable charge they can also help with your flat cleaning needs, also other domestic chores, such as laundry and ironing, indoor window cleaning, spring cleaning cupboards, sorting out, shopping, etc.
How to register your interest
If you are interested in finding out more information please click here to complete a form or contact us.