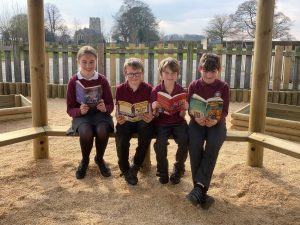 Parents were determined the show must go on when Covid-19 scuppered a North Yorkshire Primary School's annual trip to the panto.
Thanks to a donation from Broadacres Community Grant Fund, the Friends of Snape and Thornton Watlass Primary School arranged for Cinderella to be beamed live into the school.
 "A trip to the theatre is a real treat for the children and seeing a live performance is also an important part of their development," said Julia Casterton.
"Lockdown meant for a second year running the children were going to miss out so we decided if school couldn't go to the panto, the panto would come to school.
"This last two years our fundraising efforts have been limited due to Covid 19 and the children returning to school may miss out on some of the usual opportunities."
Fundraising by the Friends was matched by the Broadacres grant and the money saved on transport meant the school was also able to buy books for the children.
"The panto was a great success and an enriching experience for all and the children also helped choose which books we bought," said Julia.
Broadacres Community Development Fund supports organisations, groups, and projects in areas where Broadacres has homes, and grants are approved by the Association's own residents, via a Community Development Fund Panel.
Broadacres resident Mags Crook, who is on the Panel, said: "It's a shame that the children faced missing out on the pantomime again so we're pleased to have been able to provide the funding which brought the pantomime to them, and also helped the school to buy new books too."
Applications for Broadacres' 2022/23 Community Development Fund are now being accepted and people/organisations can visit www.broadacres.org.uk/customer-area/getting-involved/community-development-fund to find out more.
Picture: Some of the children with their new books.