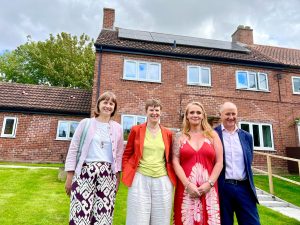 Broadacres' sustainability drive has received a major boost following a significant investment in our homes to make them more energy efficient.
We have introduced a range of measures across our homes  in North Yorkshire, as part of the drive to ensure our customers are warm and that we become a net zero carbon organisation by 2050.
One of the most significant investments has been the switch to low carbon air source heat pumps (ASHPs) to keep homes warm. We recently installed our 800th heat pump, so now 1 in 8 of our homes has one.
Even though all its new build homes now have heat pumps fitted as standard, the vast majority of the 800 pumps have been installed in Broadacres' existing homes. These have been in areas without access to mains gas, replacing oil and LPG central heating and storage heater systems – although by 2050, a low carbon heating system will be installed in every one of our 6,700 homes.
In addition, Broadacres has also been carrying out a range of other work on our existing homes  to improve their energy efficiency, including the installation of solar panels, underfloor insulation, loft insulation and replacement windows.
All new windows installed by Broadacres are now triple glazed and in 2023/24 alone, a total of £1.8 million is being spent on a window and door replacement programme.
All this combined has helped Broadacres to increase the number of homes which now achieve at least an Energy Performance Certificate (EPC) Band C rating.
In 2020, Broadacres had over 2,000 homes which did not achieve Band C, but this figure is now below 1,400 and we are now on track to have all our homes at this level or higher by 2028 – two years ahead of the 2030 target set by Government.
Among those to benefit from energy efficient investments on their homes is David Cashmore, whose bungalow in Great Ayton has had both an air source heat pump and solar panels installed.
He says: "I used to have storage heaters which were very wasteful on energy, but the heat pump is so much better and more efficient, and I have total control of it so I can shut it off completely when I am not using it to save money.
"The solar panels are also helping because I know the best time to take advantage of them in regard to using electricity, so for example I always cut my grass at these times."
Funding for this work has come from various sources including Broadacres own capital, as well as the Social Housing Decarbonisation Fund, from which the Association was allocated £2.4 million.
Helen Ball, Broadacres' Senior Sustainability Manager, said: "We are really pleased with the progress we have made to date on making our existing homes more energy efficient and in particular with the fantastic support we have received from our customers whilst the work has been undertaken on their homes.
"It's a vital part of our sustainability strategy which will enable us to achieve net zero carbon emission status by 2050."
Broadacres has also been working on a pilot project which has involved taking four unoccupied homes in Northallerton, Stokesley and Myton-on-Swale, near York, and carrying out a deep retrofit programme of works which will make the homes net zero ready.
The retrofit homes have undergone structural and layout alterations, had new insulated concrete floors installed, external wall insulation (EWI) and stringent air tightness measures and tests completed. Solar PV panels have been installed on them, along with ASHPs and mechanical ventilation heat recovery systems. All homes are now Energy Performance Certificate (EPC) Band A, making them some of Broadacres most efficient homes.
Thirsk MP Kevin Hollinrake recently visited one of these homes, in Myton-on-Swale, and praised Broadacres for the way we are "leading the conversation" when it comes to energy-saving solutions for homes.