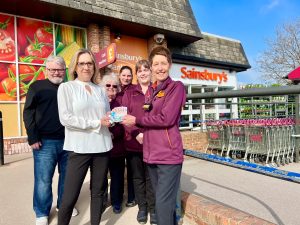 Customers of a local supermarket have helped to raise money for a supported living service in North Yorkshire which helps women fleeing domestic abuse.
A raffle for a Mother's Day hamper in Sainsbury's in Northallerton raised £170.
This money will be used to plan summer activities for women and children who live in the 14-bedroom women's refuge run by Broadacres.
Sainsbury's Northallerton Customer Services Assistant Elaine Harker said: "We already have a collection in-store for the refuge thanks to the kind donations of day-to-day essentials that our customers make.
"So, when we decided to have a raffle for a Mother's Day hamper, we were very happy to choose the refuge as the beneficiary, and we were delighted to be able to present £170 to Broadacres."
Michaela Thomas, Refuge Co-ordinator, said: "Donations like this make a massive difference to the women and children and we're looking forward to putting on activities over the summer using the money raised.
"We would like to thank the customers, management and staff at Sainsbury's for their kind support."
Picture, from left to right: Michaela Thomas (left) accepts the money from Elaine Harker with Store Representatives and Stephen O'Brien, Broadacres' Scheme Manager for the Young Persons and Women's Refuge.