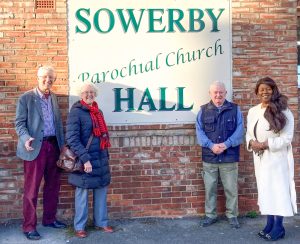 Users of a popular community facility in North Yorkshire will be sitting pretty following a grant from Broadacres.
The money, from Broadacres' Community Development Fund, will buy some new chairs as part of a refurbishment programme for Sowerby Parochial Hall. The Hall has been serving the local community for nearly 90 years and now caters for a wide range of groups from toddlers to retirees.
"A lot of local people and groups use the Parochial Hall, which was built in the 1930's and needs periodic work on it to keep it spick and span," said Appeal Manager Yvonne Bowling.
"We want it to be an attractive and comfortable venue for regular users and occasional bookings for meetings and parties."
The hall is available for booking and has a kitchen and toilets, stage, and limited parking. The entertainment licence capacity of the main hall is 120 people whilst the smaller Merriam Room can hold up to 20 people.
Other planned improvements include installing wi-fi and a hearing loop and changes to the screen for projecting videos, as well as giving the decorations and insulation a facelift.
Broadacres Community Development Fund supports organisations, groups, and projects in areas where Broadacres has homes, and grants are approved by the Association's own residents, via a Community Development Fund Panel.
Broadacres resident Mags Crook, who is on the Panel, said: "We are in the process of providing almost 100 new affordable homes in Sowerby, in addition to the other homes built over the last few years at the Sowerby Gateway development.
"With so many residents in Sowerby, it's nice to have been able to support a facility much-loved in the local community."
Applications for Broadacres' 2022/23 Community Development Fund are now being accepted and people/organisations can visit www.broadacres.org.uk/customer-area/getting-involved/community-development-fundto find out more.
Picture: Members of the local community outside the village hall.