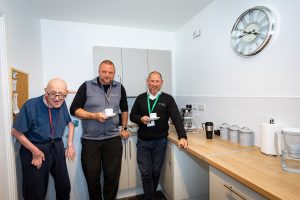 Broadacres is investing £7 million as part of a 12-month programme to further improve its existing homes across North Yorkshire.
We are conducting a range of work across our housing stock in 2023/24, as part of our commitment to providing "great homes", which forms part of our Mission Statement.
This includes:
350 new kitchens
40 new bathrooms
151 new boilers
311 new triple glazed windows.
180 fence replacements
Among the first residents to benefit from the work are people living in The Orchards, Broadacres' extra care scheme in Brompton, near Northallerton, where over 30 new kitchens have been installed in customers' homes.
The work was carried out by Broadacres' contractor Esh Construction, which was appointed on a five-year contract in April 2023 to deliver kitchen and bathroom replacements on behalf of the Association. As well as new kitchen and bathroom units/furniture, this also includes plumbing, tiling, flooring redecoration and electrical rewiring.
The Orchards was the first scheme to have work completed and at an afternoon tea event in the scheme recently, residents met representatives from Broadacres and Esh to discuss the work.
Peter Craggs has lived in The Orchards for 20 years and says that due to having muscular dystrophy, his new kitchen has made a massive difference to his life.
He explains: "I can't bend down so having all the new kitchen units at one level has made it so much easier for me.
"I was able to choose the type and colour of the units and I now have more space in the kitchen, so I couldn't be happier."
Colin Ford, Operations Director at Esh Construction, said: "This scheme marks the first refurbishment contract we will deliver with Broadacres in 14 years. We are delighted to be working in collaboration to improve living conditions for tenants while building on our extensive experience of delivering refurbishment works for more than two-decades."
In addition to the planned maintenance programme, Broadacres has also allocated another £7 million for responsive repairs (repairs reported by customers) and for conducting work on empty homes before they are re-let.
And as part of the Association's affordable warmth programme, it is also continuing to install energy efficient air source heat pumps into its home, along with a range of wider measures to make homes more energy efficient. Over 800 homes are now using this form of heating which can take advantage of renewable energy.
Andy Powell, Broadacres' Customer Services Director, said: "As well as building new homes in our rural communities, we have always recognised the importance of ensuring our existing homes are affordable, warm and maintained to the highest standards.
"The work we are undertaking in 2023/24 will have significant benefits for our customers and the feedback we have received so far has been very positive. We are looking forward to delivering the rest of the programme in partnership with our customers and contractors."