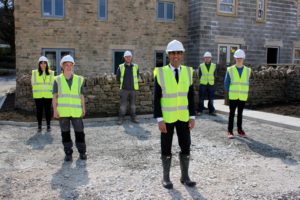 LOCAL MP Rishi Sunak met young apprentices who are among almost 40 people employed by Broadacres during the Covid-19 pandemic as we continued to invest in local communities.
The meeting took place at Broadacres and Hartforth Homes' soon-to-be-completed development in the village of West Witton.
The apprentices employed by Broadacres are Max Cook, Plasterer; Bronte Hogarth, Painter; Samuel Baldwin, Commis Chef; Alice Brown, Digital/Social Media Marketer; Billy Hutchinson, Heating Engineer; and Laura Bradley, Electrician.
During his visit, Mr Sunak learned that most of the apprentice training is funded through the Apprenticeship Levy. This was introduced by the Government in 2017 as a way of encouraging more employers to take on apprentices, with a target of 3 million new apprenticeships being created by the end of 2020.
Broadacres' Chief Executive Gail Teasdale said: "We are delighted that Mr Sunak was able to meet the apprentices and learn more about what they have been doing at Broadacres over the last 12 months.
"We recruit apprentices every year and we were not about to let the Covid-19 pandemic prevent us from doing this again, so we made tweaks to the recruitment process, including carrying out virtual assessments, and this resulted in us receiving 300 applications in just two weeks.
"It was very difficult choosing the six successful apprentices, but we couldn't be happier with the people we did select, who have made a fantastic impact at Broadacres."
Mr Sunak first visited West Witton prior to work starting on the homes in 2019. Broadacres are working in partnership with Hartforth Homes and have eight of the 17 homes being built on Harenda Field at the edge of the village.
When completed in June 2020, six of the two and three-bedroom homes will be allocated via discounted sale, with two being available for affordable rent. The homes will be allocated to people with a local connection, with staff working at local businesses among those who have already registered their interest.
Work on the scheme was able to continue despite restrictions, with Covid-19 secure guidelines being followed during the construction of the homes.
Gail added: "Like all organisations, we had to adapt due to Covid-19, but we have continued to work and provide employment opportunities, with 38 people starting with us since April 2020 many in new roles as we continue to expand.
"West Witton is a good example of how we have been able to continue to deliver. This will be our first affordable housing scheme in the Yorkshire Dales National Park for 13 years, providing much-needed homes for local people, so it's a very important project for us."
Mr Sunak said: "I applaud Broadacres' commitment to bringing young people into work through apprenticeships, growing their own talent to work on much-needed housing schemes like the West Witton development and gaining qualifications while doing so.
"It is really encouraging to see the progress made on the scheme, despite the impact of Covid-19, since I visited the site in 2019. When complete, it will be a valuable addition to the supply of homes in the Yorkshire Dales – a great example of how new housing can be accommodated in sensitive landscapes like the National Park."