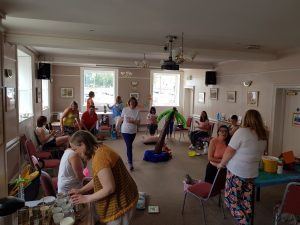 Parents and Carers of Special Children (POSCH), an organisation which supports parents, carers and grandparents of children with additional needs in North Yorkshire, will be Broadacres' charity for 2019/20.
All money raised throughout the year will help support the charity, which has groups in Bedale, Northallerton, Colburn and Stokesley.
POSCH was set up in 2014 by a Broadacres resident in Bedale who identified a need for a support group for parents of children with additional needs, and the organisation has gone from strength to strength, now supporting 280 families across the area.
Coordinator Anita Reeves said: "One of the most important things about POSCH is that we support families of children with any additional needs with or without a professional medical diagnosis.
"This means that the family of a child with autism doesn't have to wait two years for an official diagnosis, or parents who thinks their child may be dyslexic can be supported by us immediately."
POSCH provides a range of services, including:
Two group meetings a month
Training for parents on disability issues, strategies/tools and practical family support
Speakers from health, education, social care & local/national organisations
Operating a text and phone-in service
One to one support for carers
Advocating for parents through North Yorkshire Parent Forum (NYPACT) with the aim of improving & shaping services
Production of a SEND (Special Educational Needs and Disability) directory
Anita added: "Like most charities run by volunteers, we are reliant on the generosity of people to enable us to offer our services, so being chosen as Broadacres' charity of the year is amazing.
"We receive no funding, other than what we can access through grants, so the money Broadacres will raise for us could pay for our costs for the next two years.
"It's like Christmas has come early."
Gail Teasdale, Chief Executive of Broadacres, said: "Broadacres is committed to supporting local communities and worthy causes that make such a difference to people's lives.
"We felt that as a Broadacres' resident was instrumental in setting up POSCH, it would make a great charity to support and we now hope to be able to raise as much money as possible over the next 12 months.
More information on POSCH is available at https://posch.org.uk/