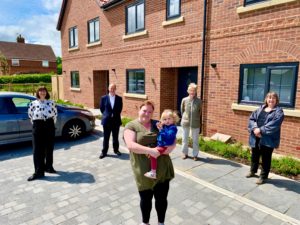 A COUPLE who needed a home adapted to their disabled daughter's needs and a woman who has moved back from Scotland to now live just literally yards from her sister are among the residents benefiting from Broadacres' latest affordable housing development, seven new homes on Carlton Road in Carlton Miniott, near Thirsk.
It has transformed a piece of agricultural land into an attractive development in keeping with the rural nature of the village. This includes two and three-bedroom homes for shared ownership and two-bedroom homes for affordable rent. There is also a one and two-bedroom apartment for affordable rent.
All the homes have their own gardens and are heated via a ground source heat pump, which harnesses natural heat from under the ground. They are a more environmentally friendly and cost-effective alternative to traditional heating.
All the homes have been allocated to people with a connection to Carlton Miniott or the surrounding area as part of Broadacres' commitment to keep rural North Yorkshire communities sustainable for future generations.
They include Zoe and Danny Sygrove, who have moved into one of the two-bedroom rented homes with their four-year-old daughter Holly. Holly has Vacterl Association, a rare condition which affects many of her bodily systems, including making her unable to speak.
Zoe said: "Danny and I grew up in the area and were renting privately in Carlton Miniott as it was close to the train station at Thirsk which we both used to commute to work.
The home we were renting was very small and had no garden, so once Holly was born it was no longer suitable.
"Because of her disability, we needed a home which could be adapted to her needs so, wanting to stay in Carlton Miniott, we say the homes advertised by Broadacres and applied for one.
"We were delighted when we discovered our application had been successful and feel so lucky because our new home is incredible. Holly's eyes lit up when she saw the garden."
Moving into a one-bedroom apartment has enabled Leonie Christian to move back to the area from Scotland and by a twist of fate means she is now living just yards away from her sister Shayne.
She says: "Shayne lives in one of the older houses in Carlton Miniott so it's a dream to now live so close to her. I am over the moon with my new home; it overlooks the countryside, is so quiet and my neighbours are lovely."
Broadacres was granted a 'rural exception' to redevelop the site. Rural Exception Sites are small patches of agricultural land outside a village boundary that would not otherwise get planning permission for housing. Under the scheme, a landowner provides land at below market value on the basis the land is used to build affordable homes for local people.
This is Broadacres' first rural exception site since 2015 when it completed a scheme at Hutton Rudby, which was opened by Princess Anne.
Joy Whinnerah, Broadacres' Development and Investment Director, said: "We're very pleased to be welcoming residents to our new affordable housing development at Carlton Miniott. It's a fantastic scheme which is very much in keeping with this lovely village.
"In our quest to become the best rural housing provider in the UK, we're continually having to look at different ways of providing more high-quality homes which can keep our market towns and village communities sustainable for future generations.
"In this case, we were able to secure a rural exception to enable us to proceed with seven new homes and it's testament to the support we receive from our partners which has helped to bring this development to fruition."
Thirsk and Malton MP Kevin Hollinrake, who visited the site prior to work starting, said he was delighted to have been able to return to see the completed homes.
He said: "I was delighted to support this scheme all the way from concept to completion. Housing is the single most important issue in my constituency and so it's great to see affordable housing of this quality and energy efficiency being delivered to rent and to buy. In Westminster and in the patch, I am very much championing the delivery of many more such opportunities for local residents across my constituency."