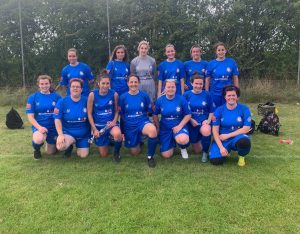 Funding from Broadacres has helped a newly formed ladies football team to get off to a fantastic start to the new season.
Brooklyn Ladies Football Club in Malton secured £500 from the Broadacres Community Development Fund to pay for a new kit for the 2021/22 season.
The fund supports local organisations, groups, and projects in areas where Broadacres has homes, and grants are approved by the Association's own residents.
The Ladies have got off to a flying start in the North Riding League, winning their first two league games 6-1 and 3-1 respectively.
Club Chairman Jamie Hopwood said the new team has proved popular with over 30 turning up for pre-season sessions with ages ranging from 16-45. Brooklyn FC currently has 400 members on its books and is based at Malton Sports Centre with girls' teams up to u14 level. The new ladies football team provides a pathway into adult football for female footballers of 16 and above.
Jamie said: "Some just want to train, whilst others also want the competitiveness of league football, which is fine as we can accommodate both and it keeps more females involved in sport and exercise as they become adults.
We have a good mix of teenagers and others who haven't played for years but are coming back to the sport now the opportunity is there.
"It is a massive help to clubs like us to have organisations like Broadacres who give a bit back to local community groups. Our numbers keep growing and grants like this help to support that growth and keep us going."
The Broadacres grants are approved by the Association's own residents, via a Community Development Fund Panel.
Broadacres resident Mags Crook, who is on the Panel, said: "We don't often get applications from areas such as Malton, so we were very pleased to receive this one and to be able to approve the grant.
"It's great to this local club blossoming and encouraging more girls/ladies to take up football as a sport."
Applications for Broadacres' 2021/22 Community Development Fund are still being accepted and people/organisations can visit www.broadacres.org.uk/customer-area/getting-involved/community-development-fundto find out more.
Ends.
Picture caption: The Brooklyn Ladies in their new strips.