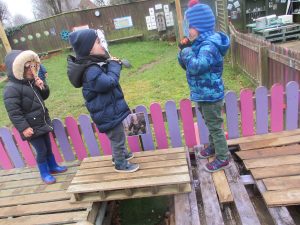 A popular North Yorkshire pre-school is aiming to "raise the roof" so it can continue to serve families in Romanby and the surrounding area.
Romanby Pre-School started life as St James playgroup 40 years ago. The name change came in 2005 when, with the help of a lottery grant, it established a base in a prefabricated building in the grounds of Romanby Primary School.
A registered charity, the facility has expanded over the years and now provides pre-school and after school care for 90 local families as well as holiday clubs that are open to the wider area of Northallerton and surrounding villages.
"We'd love a purpose-built brick building but that would cost £250,000 and wouldn't be allowed under planning regulations as any structure has to be moveable," said Pre-School manager Mike Hunter.
The current prefabricated structure has planning permission for 15 years, but a new roof is urgently required and thanks to a £500 grant from the Broadacres Community Development Fund fundraisers are now over halfway to their £36,000 target.
"We're doing raffles and all sorts of other fundraising activities and have hope to reach our target by the end of the year," he said. "The pre-school provides a very important service for working families in the area and we are grateful to Broadacres and everyone else who has contributed to the appeal."
Broadacres Community Development Fund supports organisations, groups, and projects in areas where Broadacres has homes, and grants are approved by the Association's own residents, via a Community Development Fund Panel.
Broadacres resident Mags Crook, who is on the Panel, said: "We were pleased to award a grant to the pre-school as it includes children whose parents live on our homes, and wish them the very best of luck in their continuing fundraising efforts."
Applications for Broadacres' 2022/23 Community Development Fund are still being accepted and people/organisations can visit www.broadacres.org.uk/customer-area/getting-involved/community-development-fundto find out more.
Mike Hunter is raising further money for the project by doing a sponsored skydive in May and can be sponsored at https://www.justgiving.com/crowdfunding/spikymike22
Picture: Several of the children who attend Romanby pre-school.