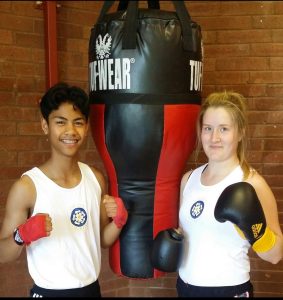 A boxing club, founded with the help of financial support from Broadacres, is celebrating its tenth anniversary by moving to bigger premises.
The move will allow Northallerton Boxing Club to open on more nights and for more people, and once again Broadacres is supporting the move with £500 from its Community Development Fund.
The club's Head Coach, Adrian Coe, said: "Broadacres were one of the original backers that got us up and running so it's wonderful news that they are helping us in the next stage of our development."
The club, run entirely by volunteers, now has over 40 members, and has certainly made an impact since its formation. Several of its boxers have reached national finals including Paulo Tolentino and Catherine Pringle (pictured), both of whom are also Broadacres tenants.
"We have a true diversity of members of all ages, sex, ethnic backgrounds and social status and are very proud of the success of our members on the National stage," said Adrian.
The club has been based at Hambleton Forum and had to close during the pandemic but is now preparing to re-open in its new premises in the basement of Northallerton Town Hall. The Broadacres grant will help towards the cost of building a new ring which incorporates the Town Hall's upright support columns as corners.
Broadacres Community Development Fund supports organisations, groups, and projects in areas where Broadacres has homes, and grants are approved by the Association's own residents, via a Community Development Fund Panel.
Broadacres resident Mags Crook,, who is on the Panel, said: "The Northallerton Boxing Club plays an important part in the community and our residents are among this who have benefited from it.
"The move to new premises will provide even more opportunities, so we're delighted to be able to continue our support of the club."
Applications for Broadacres' 2021/22 Community Development Fund are still being accepted and people/organisations can visit www.broadacres.org.uk/customer-area/getting-involved/community-development-fundto find out more.
For more information about the club, Adrian Coe can be contacted on Adrianrezults@hotmail.co.uk
Picture: Boxers Paulo Tolentine and Catherine Pringle (who lives in a Broadacres' home).