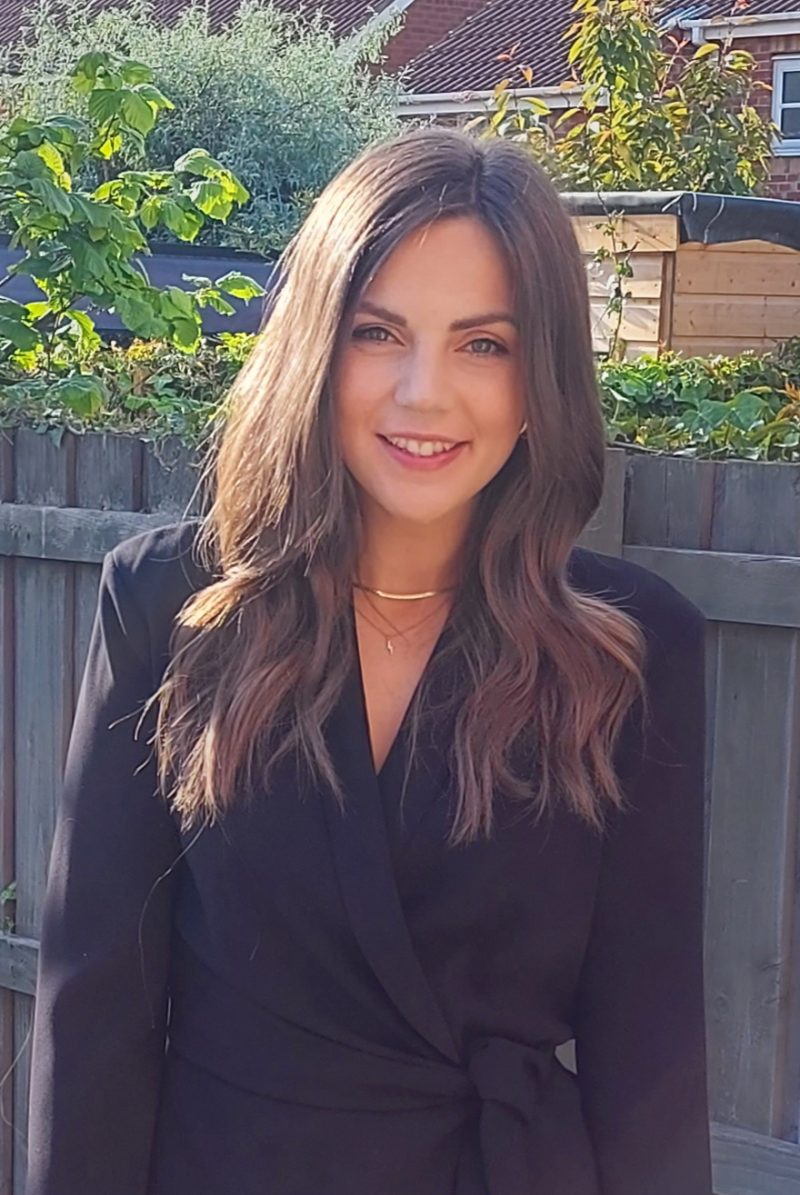 It's not every day you get a call at work asking how to deal with three dead bodies, but then everyday is different for Broadacres Association Solicitor Sophie Hopton.
The three skeletons were over 200 years old and the pagan burial site was uncovered on land Broadacres were developing for an extra care scheme.
"It was probably the most unusual call I've had so far," says Sophie. "We took great care and the bodies were carefully unearthed and a reburial ceremony held on a different part of the site." 
Sophie has been with Broadacres since leaving Northumbria University with a law degree in 2015. At school she'd considered becoming an English teacher and had taken law as a fourth A level. 
"I had a really inspiring law teacher who was a former solicitor. She spoke with such enthusiasm about the job I was hooked and decided that was what I wanted to do," said Sophie. "After University I didn't want to work for a large commercial law firm or in criminal law. Working as part of a small team with lots of variety appealed so I applied to Broadacres."
Land and site acquisition, planning agreements, road and utility contracts are all part of Sophie's role plus any other legal issues that might crop up. She says she gains great job satisfaction from seeing development projects with a social value through to conclusion.
"I get to see the schemes progress from buying land to completion on site. It's lovely to see how affordable housing helps people to live in an area where they would otherwise never have been able to. We hear of some lovely feedback."
After starting at Broadacres as a Trainee Legal Executive, Sophie qualified as a Chartered Legal Executive and Certified Executive, Solicitor and is now the Association Solicitor.
"I was promoted to the job of my boss when he retired,and he had been very supportive of me as I was starting out. Now I want to give that same support and mentoring to our current Trainee and Paralegal," says Sophie.
She says she would recommend Broadacres for anyone looking for a nice working environment and the chance to progress.
"We all get on and are supportive of each other. When lockdown eased each team was given some funding to organise a get together. Some went to the races, a barbeque or llama walking and we decided on an escape room," says Sophie. "It was a haunted cabin and we managed to escape with just over one minute left. It was very tense but we are all still friends."   
Outside of work Sophie enjoys running, pilates and long walks on Redcar beach with her husband and their pet border terrier, Stanley.
Helen - Environmental Officer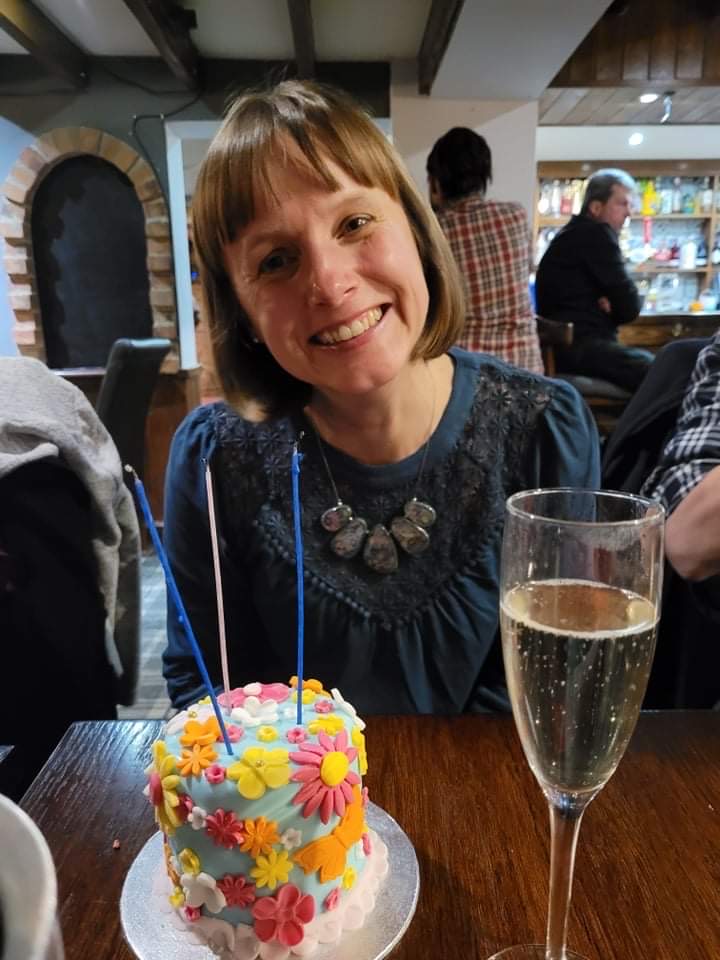 Leading Broadacres transition to a net zero future is Sustainability Manager Helen Ball.
The job title itself is evidence of how much the world has moved in terms of recognising the need for change – when Helen studied Geography at Aberystwyth University such roles didn't exist.
"I come from a very outdoor activity family and at school I was always interested in things like mountain climbing. I was a conservation volunteer and achieved a gold Duke of Edinburgh award," says Helen.
"I always wanted to be involved in some sort of environmental role but when I did my degree I never envisaged such roles would exist in so many sectors – including housing."
Armed with her Geography degree, Helen ran a Council eco-programme for schools, worked for the National Trust and spent a year teaching at a school in Ghana. She also worked on a fixed term contract for Broadacres and when her current role was advertised five years ago she knew it was the job for her.
"By then I had realised how important housing was in transitioning to a low carbon future and I wanted to be part of it, it became my calling," says Helen, 45.
"What's good about the sector is that different housing providers are all on the same journey and there is a lot of peer learning and sharing. I'm always happy to have a chat with anyone because I know next week it might be me seeking advice."
Broadacres is fully signed up to the Government target of being carbon neutral by 2050, and are currently working to improve the energy efficiency of all homes to at least a C rating by 2028.
Helen's role is to co-ordinate the transition. All new homes will be extremely well insulated, have air source heat pumps rather than gas boilers, and be future proofed so they can accommodate advances in green technology including solar panels and electric vehicle charging points. Meanwhile, 6,500 existing homes will see gas boilers replaced with low carbon heating systems, solar panels installed and have external wall insulation to reduce heat loss.
It's also about how Broadacres operates as a business, moving to an electric fleet and providing energy efficient light and heating to offices. Staff are given carbon literacy training so thinking green becomes second nature.
Serving a rural community throws up its own challenges, including the lack of charging points for electric vehicles in rural areas, however this is something that Broadacres is looking to overcome by installing charging points in carparks in our schemes.
"Technology is not there yet but trials are underway and we are looking to order 25 new electric vans within the next year," says Helen.
Outside of work Helen's two daughters keep her busy and the family enjoy spending time together. Though, true to Helen's carbon-free calling, they tend to holiday in the UK rather than fly abroad.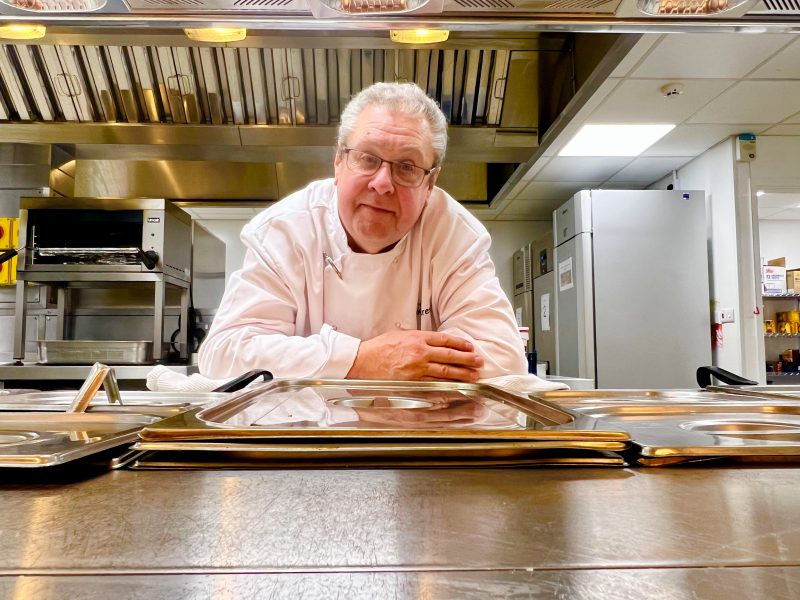 Michael Dorrian can list Karen Carpenter and various members of the Royal Family among the well-known people he has prepared food for.
And he has also helped to develop products for brands such as Marks and Spencer, Pizza Hut and Wagamama's, to name just a few.
Now, as Broadacres' Catering Service Manager, he is responsible for overseeing a team which prepares meals for people living in our four extra care housing schemes in North Yorkshire.
Classically trained in French & European Cuisine, he has worked in the food and hospitality career his entire career and has more than a few claims to fame.
"A career highlight for me was cooking for Karen Carpenter, and I was also responsible for developing the ration packs from canned to pouch meals for the Armed Forces, which are still used today," he says.
"I have cooked in five-star restaurants and hotels, and in sales roles helped to launch products into international markets and led teams at companies valued at £100 million."
So, what is Michael doing at Broadacres, you may wonder.
We'll let him explain: "I took a break from the industry after working in it for so long and then an opportunity came up as the Chef Manager at Broadacres' Town Close extra care scheme in Stokesley in 2017 and it perfectly suited the work/life balance I was looking for."
In 2019, Michael, aged 64, was promoted to his current role where he oversees a team of 48 people working in a range of roles, including chef managers and food service assistants. The team work at the four extra care schemes, Town Close in Stokesley, Rivendale in Northallerton, The Orchards in Brompton and Kirkwood Hall in Leyburn.
Here, they prepare meals throughout the day for residents. Members of the local community were also able to dine at the schemes prior to Covid and there are plans to restart this service shortly.
Michael says: "There are four sites but one team encompassing key Broadacres' principals which are passion, respect, and empathy.
"80% of the food we serve is cooked on site using fresh, locally sourced ingredients and menus are changed on a four-week cycle with an emphasis on choice and flexibility."
With the worst of the pandemic now appearing to be over, Michael and his team are looking to the future and have big plans in in the pipeline.
He explains: "We have an aspiration to develop the catering & hospitality division, so it is self-financing and have multi stream income revenue generation with money being ploughed back in to enrich the experience of residents.
"We are creating a mobile team that can mutually support each other across all the sites and providing a training platform for catering colleagues to be able to be promoted in-house
"Broadacres is a very supportive employer which values its staff, so I have no hesitation in encouraging people to come and work here, whether it's in catering or another part of the organization."
Outside of work, Michael is a married-father-of-three who is a Trustee of his local social club in Saltburn and enjoys walking.
Jess - Development Manager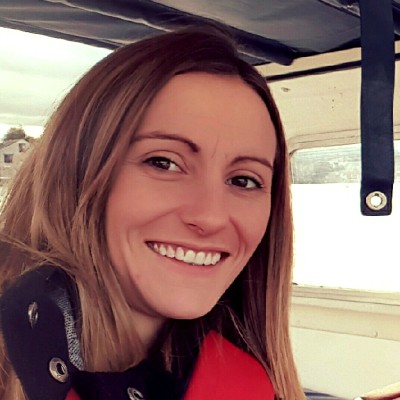 Jess Box freely admits that when she first started work as an apprentice at Broadacres, she viewed it as a short-term fix.
Having been made redundant twice from previous jobs as a legal clerk, and with a young child to support, she was desperate for any job to pay the bills and became an apprentice with Broadacres' development team.
That "short term fix" has now lasted over a decade, and Jess has progressed from apprentice to Development Manager and regards Broadacres and the team as one big family.
"I was on my own with a small person and felt I just needed to find any job and then look around for something I really wanted to do," says Jess. "In fact, I found that this was what I wanted to do, I've been here ten years now and really love my job."
As a Broadacres Development Manager, Jess, 34, is responsible for identifying potential sites, working with communities, and then overseeing the building of new, affordable homes. Through working with parish councils and other groups, Jess can identify Rural Exception Sites where development can take place that addresses local housing need. Sustainability is key, so the need for facilities such as shops, health centre, a new school or link road is all part of the discussion.
A recently completed scheme at Huby, North Yorkshire, illustrates why Jess loves her job.
"There was a clear local need for affordable housing that would allow local people to gain a foot on the housing ladder," said Jess.
"I've seen this development through as a project coordinator alongside the development manager from a discussion document about a muddy field, to completion. Seeing how grateful and delighted people are when they move into their own homes in their local area near friends and family provides great job satisfaction."
The "small person", who had Jess desperate to find a job, is now a teenager with two younger brothers which keeps Jess busy outside work. She also enjoys city breaks abroad with friends and has ticked off Dublin, Budapest, and Amsterdam amongst others.
Jess has no hesitation in recommending Broadacres to job seekers.
"I have found it a great company to work for, there's a wide range of jobs and the opportunity to progress a career. Like me, once people join,they tend to stay a long time."
Rachel - Housing Support Team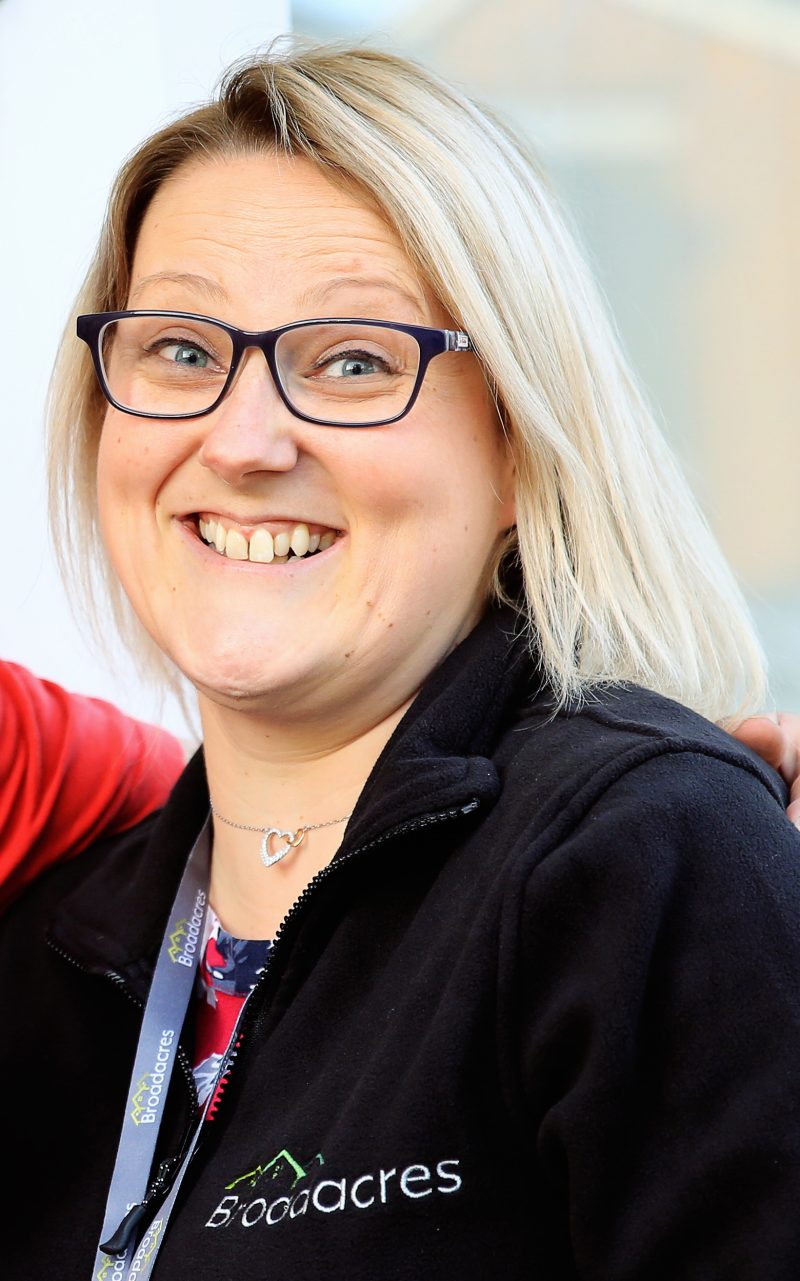 For Rachel Bilham, the best part about working for Broadacres is the chance to help people in the community she grew up in.
Rachel, 39, from Hambleton, North Yorkshire, joined the company 18 years ago and is now a team leader with housing services.
"I saw how many people I grew up with were being priced out of the area and having to move out and away from the support of family and friends," says Rachel.
"The provision of social and rural housing means there is that opportunity to remain local, It's something I'm quite passionate about and it's nice to make a positive difference to your local community."
After gaining a degree, Rachel's first job was as a manager with a food outlet but she found the unsociable hours – often working shifts until 4am – meant she missed out on time with friends and family.
In the end her dad suggested she find a job with better hours and so she grabbed the paper and applied for the first one she saw.
"It was for a vacancy for a housing assistant with Broadacres. I was amazed I got it and I've been here ever since," says Rachel.
With support from Broadacres, Rachel completed a Masters Degree in Housing and has risen up the ranks to lead a team of five housing officers managing an area from Northallerton to Goole and across the Whitby.
Her role is one of problem solver, working with partners in local councils, housing associations, police, social care and other agencies to provide housing and other services to local people. She's also completed the "Raising Roof" programme designed to encourage younger people into the boardrooms of Housing Associations.
"It's a fast paced job, no two days are the same and that's how I like it," says Rachel. "In addition, Broadacres operates flexible working which is ideal for me as I have two young children and a husband whose job takes him all over at short notice."
Both her young daughters are keen footballers so family time often revolves around training and matches. Rachel and husband also find time each month to watch Leeds United in action.
"Having my own children helps me realise how important it is that families are able to stay in their local area," says Rachel. "There are families I helped house when I first started 18 years ago whose children are now grown up and we are now helping them to stay local – that gives great job satisfaction"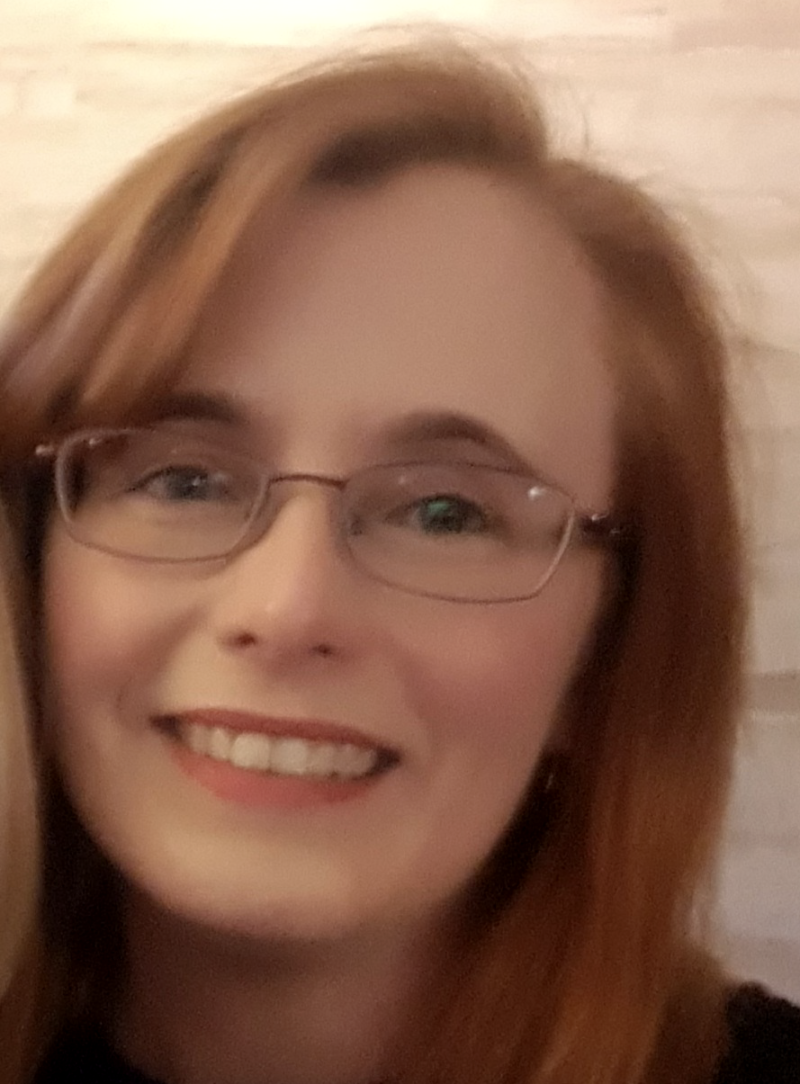 Experience gained during the pandemic proved pivotal for Emily Thomas who decided it was time for a change of direction.
For 14 years Emily worked as the Customer Involvement Manager for Broadacres, linking with tenants and the wider community, seeking their views on how the service could better meet their needs.
Then during the pandemic, with a scheme manager having to shield, Emily switched roles to provide a management presence at a Broadacres development of flats that provides extra support for residents. It allowed her to put into practice skills and knowledge she had acquired when studying for her Level 5 Diploma with the Chartered Institute of Housing.
It made Emily, 43, realise how much she enjoyed working face to face with people on a daily basis rather than being fulltime in an office or at home.
"I really enjoyed the challenge of using my skills to make a positive difference, I prefer working face to face, interacting with people and was so grateful that Broadacres gave me the opportunity to do that," said Emily.
It reminded Emily of what first inspired her to work in the social housing sector. She was studying for her degree at Sheffield Hallam University and her dissertation focussed on the difference social housing had made to a local estate.
"I believe social housing organisations have a moral responsibility to support local communities. To do that you have to get out and about and earn their respect," says Emily.
"Home ownership is not an option for everybody and it's a privilege to be part of the team that provides homes and support. I think, especially the last couple of years, we have all appreciated the value of your own home."
When the job of Scheme Manager at Kirkwood Hall, Leyburn, was advertised Emily applied, and now runs the collection of bungalows and apartments for people who need some care and support to allow them to continue to live independently. The scheme also has a respite and two clinical studios which are regularly used by the local community to assist with recuperation enabling sooner discharge from hospital before returning home.
There's also a hairdressing salon, a craft/hobby room and restaurant as well as a secure garden with a greenhouse, potting shed and a henhouse with five chickens.
"It's a big scheme with a lot going on and I'm lucky to work with such a fantastic team," says Emily.
Outside of work Emily is a trustee for a local women's refuge charity and also enjoys walks with Toffee, her Jack Russell, and digging away on her allotment.
"I grow a wide variety of fruit and vegetables. There's something very satisfying about growing and then preparing your own food for the table," she says.