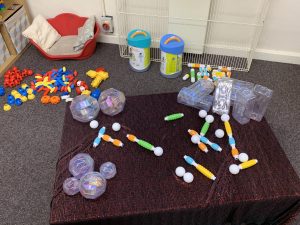 Budding Bob the Builders will enjoy hands-on experience at a pre-school thanks to a grant from the Broadacres Community Development Fund.
The money will fund a creative construction site play area at White Rabbit pre-school at Catterick Garrison, North Yorkshire, allowing youngsters to let their imaginations run wild.
Pre-school treasurer Clare Marx said: "There's a lot of construction going on locally which the children pick up on and this will be their chance to have a go.
"We are run as a charity so anything we make is ploughed back into keeping the pre-school running. The Broadacres grant is brilliant because it allows us to buy the little extras like this that can really make a difference to the development of children, their imagination and creativity."
The nursery caters for 45 children from the military base and homes in the Catterick Garrison area and the grant will allow the nursery to purchase foam construction blocks, complete with play digger, tools and clothing and create an imaginative play area.
The Broadacres grants are approved by the Association's own residents, via a Community Development Fund Panel.
Applications for Broadacres' 2021/22 Community Development Fund are still being accepted and people/organisations can visit www.broadacres.org.uk/customer-area/getting-involved/community-development-fund to find out more.
Picture: Some of the materials bought with the Broadacres' grant.