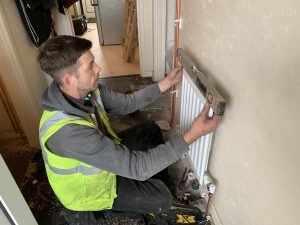 Broadacres has started work on an £860,000 scheme to tackle fuel poverty by installing new heating systems in hundreds of homes.
Thanks to funding from the National Grid's Warm Homes Fund, we are installing gas central heating in 323 homes which are currently heated by more expensive-to-run storage heaters or solid fuel.
Work is now underway to install energy efficient boilers at 23 properties in Paradise Fields, Easingwold. The work will be completed in May before the team move onto other homes in Easingwold.
Homes in Northallerton, Great Ayton, Richmond, Bedale, Thirsk and Scarborough, will also have their heating systems upgraded over the next two years. These are areas which have gas supplies but until now the gas has not extended to Broadacres' homes due to their location.
The first couple to have a new central heating boiler and radiators installed in their two-bedroom home are Alan and Patricia Longfellow, aged 68 and 73 respectively.
They said: "We were paying up to £80 a month on our electric, so we are hoping now we have gas central heating this bill will be greatly reduced.
"We are getting a smart meter installed which will help us monitor our usage, but even after a few weeks, and with the heating being on because of the cold weather, the house already feels a lot warmer."
Neighbour Noel Sleightholm, aged 90, says he is already feeling the benefit of his new heating in his one-bedroom home.
He said: "With the electric storage heaters, even when they were on, there was still colds spots in the house, but now the house is so much warmer.
"The work only took a day and everything was cleaned up after, so I was delighted.
"I am hoping it will reduce my bills so I have a little bit more in my pocket each month."
Whilst the work is done, residents are offered the opportunity to spend the day in a furnished 'show' home at Paradise Fields where the heating system has already been replaced but if they prefer the work can be carried out while people are in situ.
Gas fitter Liam Sibbald explained: "You have to be sensitive to the individual needs of each resident, so if they are remaining at home, we make sure they are comfortable and work as hard as we can to complete the work as soon as possible."
Gail Teasdale, Broadacres' Chief Executive, said: "This is an important part of our affordable warmth strategy and we're delighted that work is underway and that our residents are already feeling the difference.
"They should soon start to see the difference when it comes to their heating bills too. Fuel poverty can have a devastating impact on people but through this scheme, and others we have in the pipeline, we aim to help as many of our residents as possible."
"Providing new, more efficient heating in 323 of our homes is fantastic, but I must stress that this is just the start and we will be exploring other ways of helping more residents struggling with fuel poverty."
The National Grid's Warm Homes Fund was set up to help people living in some of the four million homes across the country who struggle to pay for heating and are relying on expensive or inefficient systems. For more information visit https://www.affordablewarmthsolutions.org.uk/