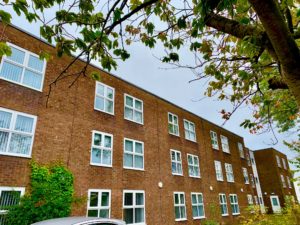 A CHARITY which supports people who are homeless or vulnerable has credited Broadacres with helping it to redevelop a former sheltered housing scheme in the centre of Darlington.
Broadacres acted as the development agent for the 700 Club, a Darlington-based charity The 700 Club that provides temporary accommodation and support services to vulnerable individuals, families and couples who are homeless, at risk of becoming homeless and/or are in condition of need, hardship or distress.
The charity was supported by Broadacres to apply for funding for Homes England to convert a sheltered housing scheme in Neasham Road into 32 self-contained, one-bedroom flats.
From November, this will be used as move-on accommodation for individuals who have the potential to live independently but who are not yet ready to do so.
As well as securing £1.6 million funding for the scheme, Broadacres managed the whole process from appointing a contractor through to overseeing the redevelopment of the building.
700 Club Chief Executive Yvonne Beattie said: "For small local charities seeking to develop social housing, there are numerous obstacles to overcome, and registering as a social landlord is only the beginning.
"To access government grants, appoint architects, contractors, and sub-contractors and liaise with planners, fire safety and health and safety experts requires time, commitment, and expertise which goes far beyond the capacity of small organisations like ours.
"There is another way and in our case that was to enter into a development partnership with Broadacres.
"From day one, once we had identified a site, the development manager took us by the hand, and brought into operation Broadacres' extensive experience in contract negotiation and management in order to complete our project.
"Though a small organisation, we were never made to feel like spectators in the development process, and consultation and engagement was constant.
"I cannot speak more highly of Broadacres' professionalism and commitment and without their help we could never have achieved what we have."
Andrew Garrens, Broadacres Head of Development Services, said: "We were pleased to be able to support the 700 Club in bringing this much-needed scheme in Darlington to fruition.
"It demonstrates that Broadacres doesn't just build its own homes but is also happy to lend its knowledge and expertise to support smaller organisations and charities in delivering important housing projects which benefit local communities."