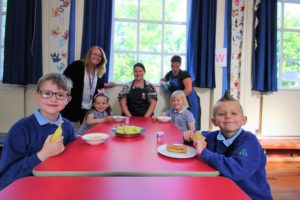 Almost 200 children per week are taking advantage of a new breakfast club set up at a North Yorkshire school with the support of Broadacres and Greggs Foundation.
Broadacres has provided the funding for the club at Sowerby Primary Academy in Thirsk.
This is the latest of several clubs now being funded by the Association with Greggs Foundation providing the bread for toast each week, through the Greggs Foundation Charitable Trust.
The club at Sowerby is already providing very popular. During the first week of it being launched in May, 107 children received breakfast and by mid-June this figure had risen to 190.
The breakfast includes toast, low sugar cereal, fruit, yoghurt, juice, milk, and water.
Headteacher Keeley Ungerechts said "We want the breakfast club to be fully inclusive, so it is open to anyone, with parents being able to ensure their children have the most important meal of the day for just 50p per day.
"The number of children attending each day demonstrates how popular it has been and we're already seeing an improvement in concentration levels.
"But it is also having a positive impact in the way the children are socialising with each at the start of each day, so we couldn't be happier, and we would like to thank Broadacres and Greggs for their support."
One in seven children in the UK goes to school without any breakfast, even though research has found that pupils who have eaten breakfast are more punctual, concentrate better in class, and have more energy and enthusiasm, leading to improvements in learning and academic performance.
Chris Fawcett, Broadacres' Business Transformation Director, said: "We have a long-standing partnership with Greggs and are therefore delighted that we have once again been able to provide funding, through our community investment budget, for another breakfast club.
"We have a high concentration of homes in the Thirsk area, so the children of Broadacres' residents are among those benefiting from the club at Sowerby, but it's just as much about helping the whole community.
"It's pleasing to see such a high take-up at Sowerby and that it's already having a positive impact on the children."
Lynne Hindmarch, Breakfast Club Manager for the Greggs Foundation, said: "We are delighted that Broadacres continue to support children to have a healthy start to the day.
"By working in collaboration with partners such as Broadacres we are able to support over 40,000 children nationally access a free breakfast each school day."