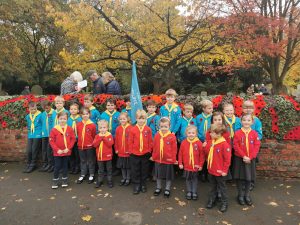 New recruits to a trailblazing North Yorkshire Scouts group will look the part thanks to a grant from Broadacres.
Topcliffe Scouts is the first group in the district to set up a new Squirrels section for boys and girls aged 4-6. The grant of just under £400 from Broadacres' Community Development Fund has bought 15 polo shirts and sweatshirts for a uniform library so all children can wear the new look throughout their time with the Squirrels.
Section Leader Sarah Rands said: "The cost of uniform can sometimes be a worry for parents, especially as many of our families have a low income. A uniform library is ideal, it means for a nominal fee a child can have the same gear as everyone else for their time with Squirrels and then when they move on another child can benefit."
Squirrels is a nationwide initiative that introduces youngsters to the scouting movement and allows them to complete activity and challenge badges. Recently the Topcliffe group learned about superheroes in their own community like nurses and binmen, visited a fire station and then took part in a litter pick.
And they were proud to wear their new uniform after signing up to join Squirrels and also at a Remembrance Day event.
"Squirrels has proved very popular. The children really enjoyed the activities and love their uniforms, so we would like to thank Broadacres for their support," said Sarah.
Broadacres Community Development Fund supports organisations, groups, and projects in areas where Broadacres has homes, and grants are approved by the Association's own residents, via a Community Development Fund Panel.
Broadacres resident Mags Crook, who is on the Panel, said: "The young Scouts look fantastic in their new uniforms and it's nice to know our grant has been used for such a good initiative like this."
Applications for Broadacres' 2021/22 Community Development Fund are still being accepted and people/organisations can visit www.broadacres.org.uk/customer-area/getting-involved/community-development-fundto find out more.
Picture caption: The Scouts at this year's Remembrance Day parade,