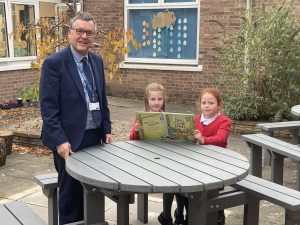 Innovative thinking and a helping hand from Broadacres has helped bring a breath of fresh air to learning at a North Yorkshire Primary School
The advantages of outdoor teaching have long been recognised by the profession as a change of environment can often stimulate children more than a formal – and sometimes stuffy – classroom.
Staff at Carlton Miniott Primary Academy recognised the potential of a central outdoor quadrant and used tables and seating to create a reading area.
Now, after receiving £500 from the Broadacres Community Development Fund, a canopy and learning pods will be added to allow use in wet weather.
Head Teacher Steve Crocker said: "We wanted to get children outside and more engaged in active learning. The quadrant is ideally placed because it links three areas of the school so can be an outdoor extension to lessons or a standalone teaching area.
"It's a terrific way of converting what was effectively dead space into an active learning area."
Outdoor storage units will also be purchased so books and craft equipment can be safely stored close at hand."
Broadacres Community Development Fund supports organisations, groups, and projects in areas where Broadacres has homes, and grants are approved by the Association's own residents, via a Community Development Fund Panel.
Applications for Broadacres' 2021/22 Community Development Fund are still being accepted and people/organisations can visit www.broadacres.org.uk/customer-area/getting-involved/community-development-fund to find out more.
Picture: Steve Crocker with pupils at Carlton Miniott School.